Overview Vietnam Tour Packages
Wild, crazy yet wondrous- what's that travel destination which hits your brain instantly? Yes it is Vietnam, modern, insanely chaotic and touristic...
Read More
Overview Vietnam Tour Packages
Wild, crazy yet wondrous- what's that travel destination which hits your brain instantly? Yes it is Vietnam, modern, insanely chaotic and touristic place at the same time. There are multiple reasons to honeymoon in Vietnam, not only is Vietnam enchanting, it's also a budget- friendly honeymoon destination. Whether you are looking for busy metropolitan-cities like Saigon and Hanoi or trekking through remote areas in Sapa, your honeymoon in Vietnam is sure to be memorable.
Best Places to Visit in Vietnam
If you are visiting Vietnam this year, these places are one of the best places that you would never like to miss during your trip.
1. Da Lat
The town is a pot of mesmerizing French- colonial villas rather than architecture, and farms of strawberries, coffee and flowers.
2. Ho Chi Minh City
Famous for Lantern Festival; Ho Chi Minh city is blend of commerce and culture that has led the country in the forward direction.
3. Da Nang
Da Nang International Firework Festival is the biggest fireworks festival in Asia with the theme "Legends of Bridges" was very popular.
4. Ninh Binh
Situated at the shore of the Red River Delta, Trang and is a small place where long-standing rice cultivation still maintains. Do not miss for green paddy.
5. Con Dao Island
Con Dao Island also called "Devil's Island of Indochina "with endless white sandy beaches is the primary choice to visit under scorching sun.
6. Mekong Delta
Mekong Delta is known as a water world that motions to the rhythms of the mighty Mekong, where boats, houses and markets float upon the infinite streams, canals and rivers.
7. Nha Trang
Nha Trang, capital of Khanh Hoa province, is Vietnam's most promising season of the sea and famous scuba diving destination.
When is the best time of year to visit Vietnam?
If you are planning for your Vietnam vacation, it's important to take a look at the calendar of festivals. The most significant is the Vietnamese New Year which lasts for seven days. Months of January and February are party months; Vietnam is poured with vibrant decorations beautifying the streets, aroma in air, and glorious fireworks displays filling the skies. There's no specific season to recommend as the ideal time for visiting Vietnam. Usually autumn and spring- September to December and March to April are probably the most- favorable seasons if you're planning to cover whole of it .
Perfect Time for the New Couple of honeymoon?
Vietnam is one of the pristine romantic honeymoon destinations for newlyweds to enjoy each other's company and start their new life as a couple in the month of September to December with the natural charm, mouth- watering food, and inspiring scenic views, Vietnam honeymoon trips will bring the couples unforgettable and priceless experiences.
What are the famous attractions one must visit to in Vietnam?
Attractions in Vietnam are unlimited, ranging from spectacular natural landscapes, and quaint villages to , colonial structures, and ancient citadels. 1. Ha Long Bay- Hub to various kinds of limestone caves such as karstic foot, phreatic caves, and marine notch caves. 2 Imperial Citadel of Thang Long- the Imperial Citadel of Thang Long is a beguiling relic of Vietnam's history and, simbolizing its historical and cultural importance. 3. Hoi An Ancient Town – Magnificent mix of ornate Japanese-designed Bridge, Chinese temples, wooden shop-houses, French-colonial houses, and old canals. 4. Ho Chi Minh- the famous political figure in Vietnam, and is known to his people as 'Uncle Ho'. Ho Chi's body is preserved here in a glass case at the Ho Chi Minh Mausoleum in central Hanoi. 5. The Cu Chi Tunnels - Huge war museum allowing visitors a sneak peak at the underground life of Viet Cong-era soldiers.
What is the best mode of transportation to reach Vietnam?
Traveling by air to Vietnam is the easiest way to reach Vietnam from India. In Vietnam, there are three major international airports; Ho Chi Minh and the Hanoi-DaNang. Airlines like Jet Airways, Air India, Silk Air, Emirates and Qatar Airways have direct flights to Vietnam from India. The Danang International Airport, Tan Son Nhat International Airport, and the Noi Bai International Airport have visa on arrival services for the Indian passengers.
Vietnam Holiday Tour Packages from Top Cities of India?
Want to book a holiday to Vietnam? Whether you're off for family trip, romantic holiday or trip with your pals, Vietnam holiday packages on Wizfair make planning your trip simple and affordable. We have holiday packages from Mumbai to Vietnam, Delhi to Vietnam, Hyderabad to Vietnam and many more. There are direct flights to Vietnam from Delhi, Bangalore, Kolkata, Goa, Mumbai, Hyderabad, Aurangabad, Ahmadabad and many other important cities.
How to Book Vietnam Package with Wizfair Vacation?
ind the perfect holiday package for Vietnam on wizfair from our Vietnam Tour Packages , Vietnam Holiday Travel Packages from India , Vietnam Tour Packages , Best Vietnam Packages , International Vietnam Package , Vietnam Honeymoon Packages , Vietnam Vacation Packages by comparing Vietnam hotel and flight prices. Book your Vietnam holiday today!
Read Less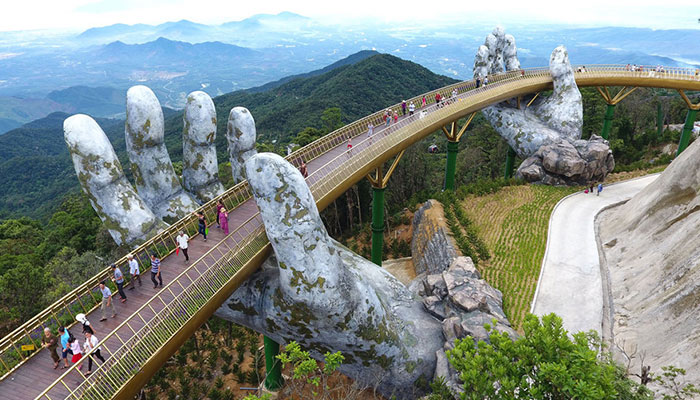 vietnam tour package
(6N/7D)



Plan this trip with 125 hotel & 170 Activities option All Taxes Exclusive
Inclusive : Airport pickup & drop, Hotel 3* or 4*, Breakfast
Starting Package Cost :
INR 27,000* Per Person
book now
*T&C Apply